Preparing for Spring with Art
This post contains affiliate links. Thanks for your support!
With Easter coming in March this year, I've been anxious to get my winter decorations down and to start thinking about spring decor. Usually I wait a bit because spring comes late in upstate NY, but this year I want to prepare the house seasonally for Easter. Today I'm writing about Preparing for Spring with Art.
Spring Art with Chalk Pastels
Great news! The artists at Hodgepodge have just released a new chalk pastel art eBook for Easter! You might be familiar with their Spring Chalk Pastels and this Easter book is a great addition to your art library. Chalk pastels make a great start in art:
Minimal Materials– You need paper, chalks, a damp paper towel, and the tutorials
Easy Prep– Since you don't have much to pull out, you can do art any time!
Forgiving– No medium is as forgiving as the chalk pastel. If you make a stroke you don't like, it's easy to scumble and move on.
Risk Free– Even the most reluctant artists in our house love the process and their finished products.
Offer Fast Results– The tutorials are clear and easy to follow and before you know it, you've made a chalk painting!
Travel Well– We take our chalks on trips and pull them out.
Easy Clean Up– When you are finished, you shut the box on the chalks, wipe down the area, and display your new art!
As a bonus, this year Chalk Pastels has introduced video art courses for all ages! The spring and Easter courses are available now.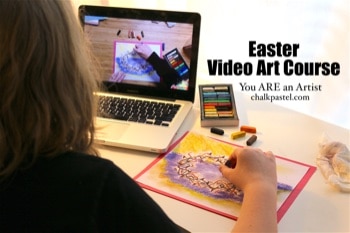 Mixed Media Art for Spring
Are your students ready for going beyond the forgiving medium of the chalk pastel? Mixed media art includes drawing, painting, collaging, and other materials in one piece. It's fun to try out and see what happens!
If you haven't tried Flourish's Mixed Media Workshops, make sure you do! She has one for each season and we have enjoyed them as a family. The materials are accessible and the art is fun. Each course includes video tutorials which are available any time. Your course never expires. There are at least 20 projects so there's enough for more than one spring season.
Craftsy also has spring time art instruction available. We are familiar with the classes below. I'll be sharing a post just on the projects Rebecca has completed with Painting Trees in Acrylic.
It's no secret that we adore trees around here. What better way to celebrate than to learn to paint them? I love Rebecca's paintings of trees and we display them all over the house. I have one painting on canvas for every season of the year. They made a lovely arrangement in our powder room. We are anxious to try out Nature in Watercolor Painting Trees.
Why choose Craftsy?
Affordable– The classes are often on sale for 25-50%.
Accessible– You can take Craftsy classes on the go from any mobile device and you can view them on your tablet or PC. We like to watch them where we are working.
Selection– There are many classes available for any medium and they are always adding classes. We started with sewing classes and have moved to art classes like drawing and painting.
Convenience– You can watch the videos any time and your enrollment never ends which means you can keep going back.
Instruction– The teachers are professionals in their craft and offer clear, concise instruction. If you have questions, you can leave a message or email with the teacher and they will answer you.
Trusted Platform– It's easy to use and we've never had issues. If you have questions or problems, you can can get answers.
We are excited to try some new spring art projects. Will you join us?


Save
Save
Save
Save