Perfect Gifts for a Cartographer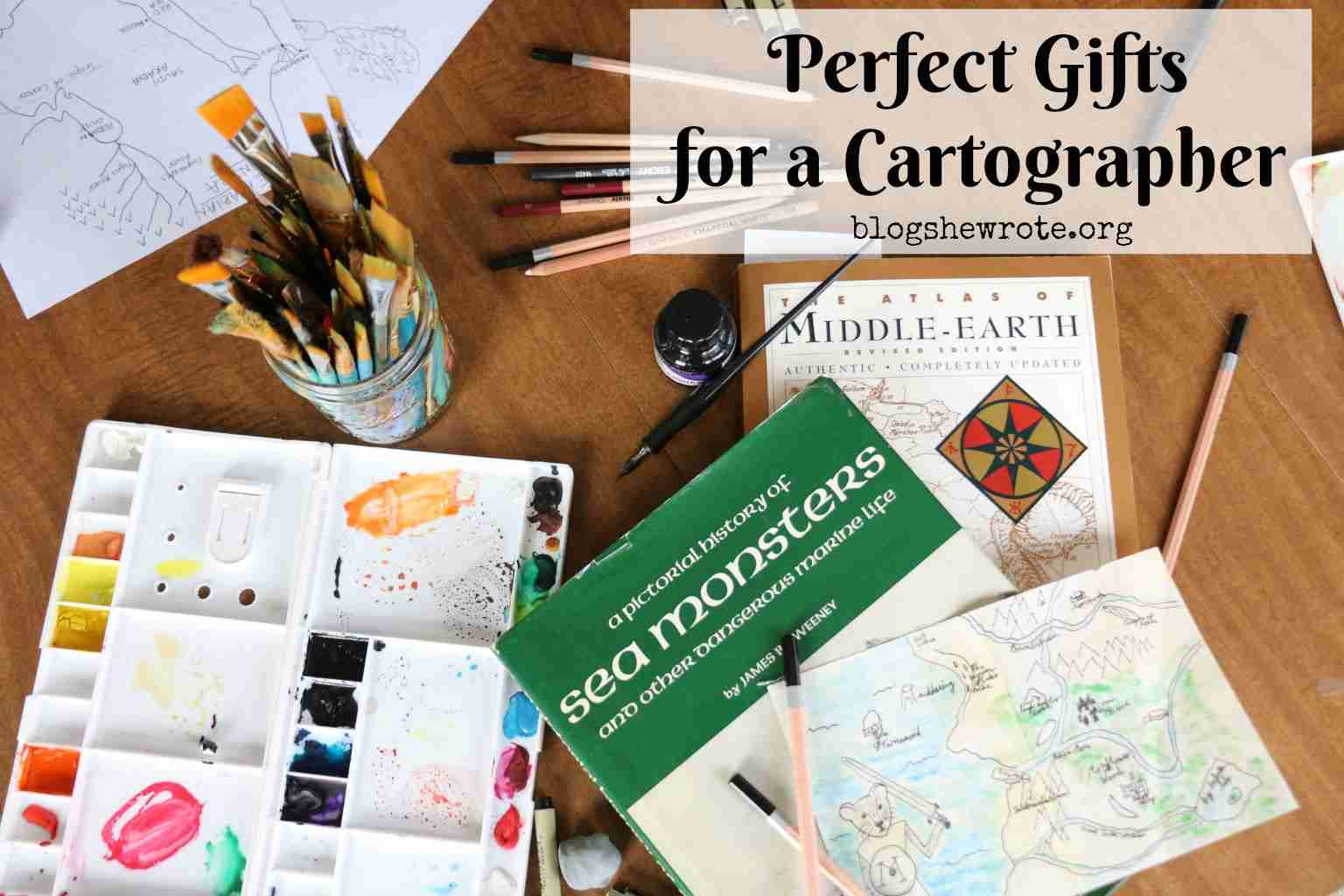 This post contains affiliate links. Thanks for your support!
Highly imaginative kids like to immerse themselves in worlds. And sometimes they map those worlds. As they grow older, their worlds, and their maps, just get more detailed.
Perfect Gifts for a Cartographer, for any time and place, outlines the tools for the serious (and maybe not so serious) map maker.
Beginning Cartography- Drawing the Maps
Sketch Pencils– Pencils of various hardness qualities are wonderful to use for drawing and shading. Most sets come with other items you'll need like erasers or sharpeners.
Kneading Eraser– These don't leave eraser crumbs and are superior for drawing. Truthfully, our artsy girl has taken to using it with her advanced algebra as well.
Micron Pens– in a variety pack. A clean stroke with every use, we use these in all our map making efforts and beyond. The different pen tip sizes make them versatile depending on their purpose.
Sketch Paper or Printer Paper– Typically we use printer paper, but a sketch pad works as well especially if you want your maps to be bound.
Calligraphy Pen & Ink– You can get thin and thick lines with one pen when you use the pens with the nibs in ink. It takes practice for sure, but makes for a lovely old map.
Drafting Compass– For making circles, of course. The school compasses we've purchased have fallen apart. We're using an engineer's compass now.
Protractor– We like the one that is a full 360º. We use it in cartography and robotics alike.
Creative Cartography- Coloring Maps
Paint Brushes– We prefer open stock brushes from the local art store, but you can start with a variety. The quality of the brush makes a huge difference in the product.
Colored Ink– Calligraphy ink comes in more than black. Have fun with these colors on your maps.
Colored Pencils– Our favorite are the Prismacolor pencils. They leave behind the best pigments.
Watercolor Paints– We prefer the tube colors. They are fabulously rich in color and glide on smooth.
Sea Monster Reference Book– Because how can a good fantasy cartographer be without this? Just after asking if she would learn how to draw them from our mapping course, my high school junior found this at our local library book sale. Needless to say, sea monsters have been showing up regularly in the margins of her maps.
Fantasy Map Making– A fun inspirational and how to book on the process of making fantasy maps
Specialty Papers– So you can make a map that looks old or fanciful.
Tea Staining Instructions– You can age paper yourself in a safe way by tea staining the paper. Have you ever tried it?
Other Posts on Cartography at Blog, She Wrote
Learning Geography with Atlases– An all things atlases post including a video on atlases with me and Tyler Hogan of Bright Ideas Press. We both love atlases!
Making Edible Maps– You can make a cookie map out of any sort of terrain. Several of our kids chose fantasy maps.
If you find your highly imaginative children showing off the maps of their inventive worlds, make sure they have the tools of a skilled cartographer.
And get lost in their world with them.
Need more gift ideas? Visit Christmas Gift Guides at iHN.
Save
Save
Save
Save
Save
Save
Save
Save