Summer Vacation Fun with Chalk Pastels
This post contains affiliate links. Thanks for your support!
Reasons to Take Chalk Pastels on Vacation
With everything else you need to prepare for vacationing not to mention you'll be on vacation doing all sorts of fun things, why take the time and space to pack chalk pastels (or any other art supply) for Summer Vacation Fun with Chalk Pastels?
Here are a few of our reasons:
Makes a great rainy day activity– Sometimes you get a wash out on vacation and bringing art supplies changes things up and keeps kids engaged when you can't run around outdoors.
Feeds the creative soul in your midst– Rebecca hadn't sat and created anything in a few days but was delighted to sit for an afternoon and paint. It was a balm to her vacation weary soul!
Provides a quiet activity when everyone needs some down time– At about the midway point in any vacation, tired kids begin to wilt. An art activity can slow the busiest person down so there is rest even for a little bit. My other go to for this is reading aloud- which we always bring on vacation!
Ensures a low cost way to enjoy your vacation environment– Some of us vacation on a tight budget leaving behind the attractions for something simpler. Make a memory by drawing your favorite spot while on vacation.
Add to Your Vacation Journal– Make a journal for your kids to have fun recording their favorite parts of vacation. Rebecca has one going for this trip to Maine and it's been a lot of fun. You can include your memory making art in the journal and add some collages of brochure pictures.
Materials to Pack for Art Fun on Vacation
Whether you are flying or driving, save room for some art essentials.
Our list includes:
Chalks– Since we flew to Maine, we packed a new package that was still nice and flat rather than our box with the smaller pieces.
Chalk Tutorials– We've been taking our Chalk Pastel tutorials with us for years and whether we are camping or staying in a vacation house, they always come in handy.
Tablet– In our case our Kindle Fires so we can easily follow along with the pdf tutorials no matter where you are. This inexpensive tablet has been invaluable to us in our homeschool this year. If you don't already have a tablet, this is a great investment without being too costly!
Drawing Paper– Rebecca likes to cut them into quarters making it easier to travel with and easy to fill space on when she draws.
Watercolor Paper-We like to travel with several media and watercolors are also easy to travel lightly with.
Watercolor Pencils– Much easier to be on the go with, watercolor pencils are fun to use on nature hikes and excursions. Then you can add the color later.
Drawing Pencils– Easy to carry on vacation if you have a sketcher in your family.
Sketch Pad– You can use any of these media in a sketch pad. Especially if you have one one meant for wet and dry media.
Rather than a sandy beach, Rebecca modified her beach to match the rocky shoreline here in Maine.
That's the beauty of chalk pastel tutorials, you can make them your own along the way.
I think one of her favorite parts of this painting was to outline the clouds in pink to indicate sunset.
We always learn something new with each tutorial!
For summer traveling, You Are an Artist Chalk Pastel has a seashore video course and eBook!
I downloaded it specifically for our trip to Maine and it has not disappointed.
Rebecca spent an entire afternoon reading the book and making some chalk paintings.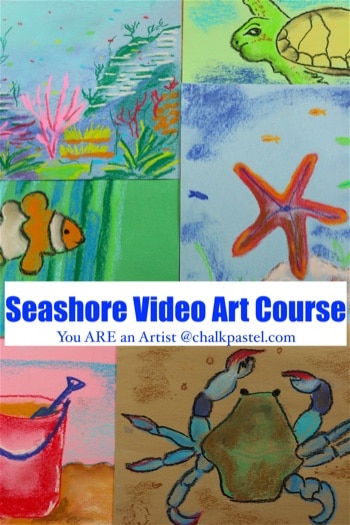 If you are new to You Are an Artist Chalk Pastels, you might be interested in books and video instruction. These will provide you with a year of art curriculum which is guaranteed to be enjoyable even by your kids who don't enjoy art. It's a forgiving medium and very pleasing to use.
So, what are your vacation plans this summer?
Be sure to put your art supplies, especially chalk pastels, on your packing list!Save
Save