Blog, She Spoke 3: Morning Time with Teens
This post contains affiliate links. Thanks for your support!
Welcome back to Blog, She Spoke!
The homeschool podcast for independent and authentic learning.
In Episode 3, you'll see we're getting more comfortable with our new microphone.
And I'm talking to you about how to do Morning Time with teenagers.
Pro Tip:
Maybe we should stop calling it Morning Time.
But it is a good time.
Click below to stream the podcast.
Music: Bright Wish Kevin MacLeod (incompetech.com) Licensed under Creative Commons: By Attribution 3.0 License http://creativecommons.org/licenses/by/3.0/
The show notes are below.
If you prefer to read rather than listen, you can visit How to Include Teens in Your Morning Time.
Morning Meeting Content Links
Each of these resources are mentioned in the podcast. Think about what you have on hand that you rarely pull off the shelf in addition to our favorites.
Crash Course– We especially like the science videos. They are a little sassy, so preview before you use them to be sure you like them.
Vihart– Fast paced big ideas in math. She's a fast talker with a Sharpie.
A Year with Aslan: Daily Reflections from the Chronicles of Narnia– Character driven ideas from the Chronicles of Narnia.
Geography Quests– Short adventures in geography for the whole family and here are over 35 to choose from!
Hymnary– I made a family hymnal and pulled our favorites from this site.
Your Morning Basket– eBook on morning time, what is about and how to put it together.
Your Morning Basket Bundle– there are large and small bundles which add support to the eBook on Morning Time.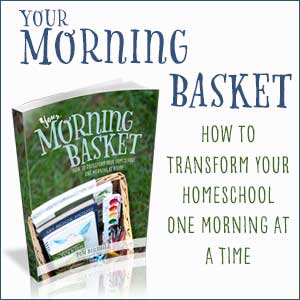 Morning Time Subscription Plan– Ready made plans for weeks at a time in all different seasonal and academic themes.
A Year with C. S. Lewis: Daily Reading from His Classic Works – Devotionals from Lewis books along with some biographical history sprinkled in.
A Year with G.K. Chesterton: 365 Days of Wisdom, Wit, and Wonder– Short devotionals from Chesterton's books.
How to Teach Your Children Shakespeare– The how to book on memorizing Shakespeare with any age child or teen or adult!
Chromecast– A device that hooks up to your TV and combined with the app will cast videos from your mobile device like a tablet or phone to your TV. It makes showing internet videos during morning time a breeze!
Pin It Maps– Beautiful maps that provide a lovely hands on experience with your area of focus. There are United States and World Maps.
Wonder Maps– a customizable electronic map and atlas which is never out of date. You can choose what features to put on the map and print them or use them online. Or offline.
More Posts on Morning Time
We've been doing Morning Time (which we call Morning Meeting) for a long time. Here are some other posts on the topic.
This podcast episode is the third installment of Blog, She Spoke. The homeschool podcast for independent and authentic learning.
Look for more podcasts as we get our production schedule moving.
I'll be sharing more about how to help your kids and teens steward their talents through purposeful homeschooling.