How to Include Teens in Your Morning Time
This post contains affiliate links. Thanks for your support!
How do you start your homeschool day?
Has the way you do business in the mornings changed as your kids have grown?
I remember a time when most of our homeschool time was spent together around our school table.
Together around our kitchen table doing art.
Together at a picnic table hearing stories and observing critters on a nature walk.
But, kids don't stay little forever.
They grow. Their interests change.
Their abilities grow and our homeschool shifts.
One day you wake up and you have a house full of teens and middle schoolers.
And morning time gets to be more difficult.
In every sense of the word!
Morning Time for Teens
At our house, morning time is called morning meeting and it's been happening since the start of our homeschool.
It may not hold all the bells and whistles like recitation and other memory work. But, it does help us to remember.
For us morning meeting is about coming together to learn for a few minutes before the rest of the day and the rest of our studies begin.
It's about maintaining a common ground.
And that's a universal concept whether you have littles or teens or both.
You want a common experience to keep you connected.
It's worth the effort.
Morning Time Content for Teens
In our morning meeting, there are some things we do daily and some we do at regular intervals.
In an effort to be more consistent, we'll be looping our schedule this year or assigning the non-daily content to days of the week.
Science Videos– We are fans of Crash Course and our kids love the information and the way it's shared. If there is something of interest or if it relates to what they are studying, this is an easy way to
Math Videos– We love Vi Hart and her fast talking math expertise. It makes us think about big math concepts and we can talk about them. We're talking about the cool math stuff here- not just an everyday lesson!
Discussion Topic– Teens love to talk. One of the things we engage in daily is discussion. It could be on a topic we put forth or it's easy to ask a teen what's going on in their world. For example, my 18yo just announced that the next Dr. Who is to be a woman. He figures that will be great controversy over that move. Discussion ensues.
Bible Study Time– This can be a reading from the Bible or a reflection from a devotional or Bible study book.
Prayer Time– Giving thanks, praying for others, for each other, for concerns they have, and the world.
Geography– We use Pin It Maps to learn and review together. You could choose a game or a question review, or a video.
Problem of the Day– This could be a math or brainteaser to start the day.
Quest of the Day– A question everyone must answer together by the day's end.
Grammar Review– Simple concept review of grammar items you know your kids need to know better.
Current Events– Talking, discussing, and praying about what's going on in our communities and around the nation and the world is a great exercise for teens. We use several news outlets for this purpose and often discuss the results at dinner when dad is at home to join in the conversation.
Pro-Tips for Morning Time with Teens Success
Working with teens and older students for a morning meeting time isn't the same as gathering your young children together for a focused time of instruction.
Choose an Optimal Time– When teens are involved, morning may not be the best time of day for your meeting time. Pay attention to the time you an devote daily outside of other activities on your teen's schedule.
Try a Location that is Flexible– If you have videos to watch, stories to read, games to play, or maps to look at, be sure your location works for all of those things. Once you break momentum, it might be hard to bring everyone back around.
Be Consistent– You'll want to be regular enough with a meeting time that it becomes a habit and your students look forward to it. You'll know you've arrived when they ask when it's time to start!
Use Content that Fits Your Family– You don't have to do what everyone else is doing! For example, even this post is just a collection of suggestions. If you want to insert something different, do it! Morning meeting is about taking the time for what's important for your family.
Make Sure the Format is Sustainable– Be careful that the meeting time is not over planned both in how much you plan for any day or week and how long it takes you put together what you've planned. If it's not sustainable in a way that makes it
Resources for Morning Time Content
Hymnary– a website for all things hymns. I was able to print the music for many of our favorite hymns.
Your Morning Basket– If you like to read all about something before implementing it, then Your Morning Basket is for you. Pam includes the run down of how to get a morning time up and running in your homeschool.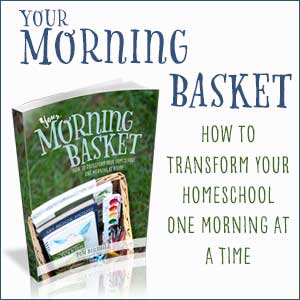 If you choose Your Morning Basket, you can find a bunch more support materials to go with it such as:
Morning Time planning sheets– with many options for how to set up your terms, weeks, and days.
Support Video– to show how to set up your Morning Time planner
Support Emails– to help you launch your Morning Time
Subscription Materials– for Morning Time content. This is a new option that makes putting together your Morning Time much easier.
A Year with Aslan– a book of daily reflections based on Aslan in The Chronicles of Narnia. I expected this to be a theological book, but it is not. It's more character driven.
Other Posts on Morning Time Material
Teenagers still need to be reminded of what is true and good and beautiful.
In fact, as they process the world around them at a new level, it is especially important to immerse them in beauty and goodness.
Even for a few minutes each day.
Take the time.
Make the effort.
Morning Time can still be a success with teens.
Save
Save
Save
Save
Save
Save
Save
Save
Save
Save
Save
Save
Save
Save
Save
Save
Save
Save
Save
Save
Save
Save
Save
Save
Save
Save
Save
Save
Save
Save
Save