Geography Quest: St. Patrick Edition
This post contains affiliate links. Thanks for your support!
Happy St. Patrick's Day! You can't let this day go by without a look at the patron saint of Ireland.
Enjoy this Geography Quest which takes us to Ireland and the British Isles.
Who Was St. Patrick?
If your family celebrates St. Patrick's Day, then you probably know all about this patron Saint of Ireland. If not, take some time to explore the legends and culture around the holiday.
Where is St. Patrick from?
What was his life's mission?
Was he successful in his mission?
What is a patron Saint and how did Patrick become one?
Follow the Life of St. Patrick on The Map
You'll need a map of Great Britain and Europe to complete this portion of the assignment.
Map Patrick's birthplace
Map his first appearance in Ireland– do you know how he ended up there?
Locate the place he went to be educated (for his mission).
Patrick returned to Ireland prepared to convert the Irish to Christianity. Can you find how many churches he established there?
Learn More about Ireland
Visit Time for Kids Around the World website and enjoy a tour of Ireland & Great Britain.
St. Patrick's Day Art
There's still time to pull out your chalks and paint some shamrocks.
Tricia at Hodgepodge has a spring chalk pastel book and a spring art video course and I'm pleased to share our results with you.
St. Patrick used the shamrock as an illustration of the Trinity as he ministered to the people of Ireland.
It's easy to explain that there are three distinct parts to one compound leaf.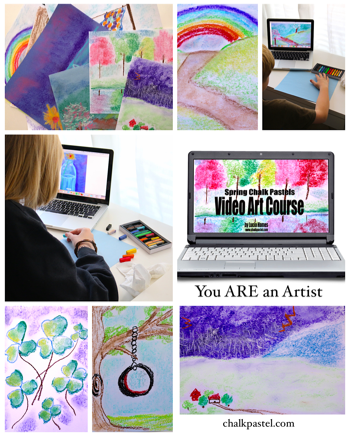 If you've never used Hodgepodge chalk painting tutorials before, you are in for a treat!
I have used them with all of our kids for art lessons and I let my artsy daughter try out the lessons that appeal to her the most on her own.
Either way, they are a delight to behold when they are complete.
Subscribe for a FREE Geography Quest Printable
If you sign up to get support through email, you'll be able to download this sheet to record your Geography Quest adventures!