How to Incorporate Fun Writing during the Summer
This post may contain affiliate links. Thanks for your support!
Summer is more than half over already.
I know because in just four weeks, I'll be dropping two kids off at college.
For the first time.
For some of my readers, it's business as usual when the weather is hot.
For others, summer is a time to build skills without the myriad of other pressures in life.
That's a vacation in itself.
For moms like me, we press on with our remaining students
in an effort to forget about the ones who are leaving!
Just kidding…
mostly.
How do your students feel about writing?
Summer is a time of wonder
in almost every respect.
Why not insert a little wonder into your student's writing?
Reasons to Write over the Summer
The writer's motto should be: "Never a day without a line of writing." – Ralph Fletcher, Live Writing
Everyone loves a break.
Sometimes we just need a change up in our routine
more than a break from the activity.
Maybe you've considered working with your students,
but you aren't sure it's worth your time
or effort.
Here are a few reasons to keep writing in the summer with middle and high schoolers (or any student):
Keep skills sharp- this one is probably the most obvious. Avoid the summer slide.
Provide extra practice- maybe skills are sharp but could be better
Fulfill student goals- some kids have long term or short term goals that need to include writing work
Get a jump on fall studies- perhaps your schedule dictates and early start. Summer writing is a perfect way to begin.
Engage with writing at a slower pace- the pressure is off in he summer time. The only thing necessary is a little consistency.
Try out new instructional methods- when the atmosphere is informal, you can take chances
Allow freedom- in the writing process. If you aren't practicing a relaxed writing school, summer is a good time to relax.
Choose writing when you need structure- kids need routines and some need learning all year round. Writing is a good choice for kids.
Fun Summer Writing Resources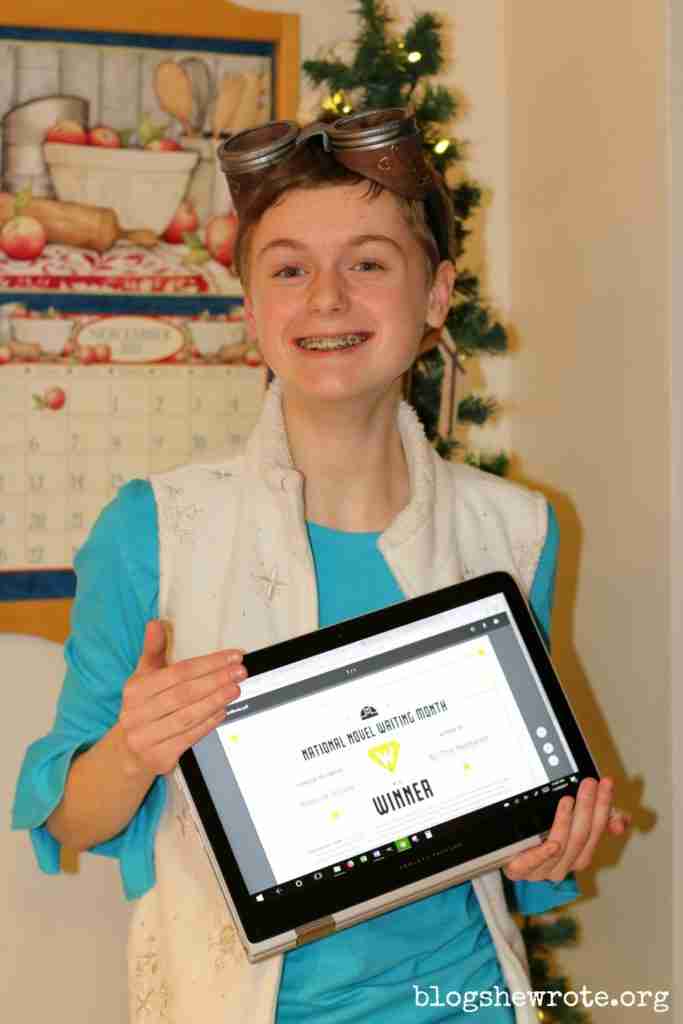 If you are unsure of how to break out of the routine,
there are lots of ideas
and resources
at your disposal.
Scheduling Time for NaNoWriMo– Have you heard of NaNoWriMo?
National Novel Writing Month is in November.
Kids, teens, and adults can sign on to meet their word goal for the month.
50K is the standard for adults and our daughter made her goal in 2017!
Now she works throughout the year during Camp NaNoWriMo to edit and polish her story.
Camp NaNoWriMo occurs in April and July.
Of course, you can always jump in any time!
One Year Adventure Novel– If I had to pick just a handful of homeschool curriculum that changed our kids' lives, The One Year Adventure Novel would make the cut.
Without question.
This program and its video instruction leads to big conversations with your high schoolers.
They outline a novel.
Then write it.
Along the way, you get to collaborate.
The curriculum and the community were life changing for our oldest.
He's off to study Professional Writing at Purdue University in another month.
The One Year Adventure Novel solidified his identity as a writer.
Trust me.
It's worth a look!
Creating Other Worlds: Writing Science Fiction & Fantasy– Once your student has completed The One Year Adventure Novel and understands the structure of the adventure novel, they can go through the module on science fiction and fantasy.
The key to these genres is to create another world for set of rules for this world in which your story takes place.
World building is one of my teens' favorite things to write and create.
Summer is a perfect time to immerse yourself in a new world!
How to Host a Summer Writer's Workshop– Include friends in your quest to practice writing in the summer.
It doesn't have to be formal.
Just invite a few families and get started!
Scrivener– Have you ever used Scrivener with your writers? Or have you used it?
The cool thing about this writer's software is how you can plan long writing projects with it.
My daughter uses it for her world building and novel writing. She's also using it to plan an online sewing course for beginners (stay tuned for this!).
Scrivener allows you to brainstorm and create without staying linear in your process.
If you think in millions of post it notes in a notebook, this is for you!
It's a fun tool for writers and other creators.
Free Six Week Writer's Workshop– Sign up for our free six week workshop which includes 18 lessons (3 activities for each of the six weeks).
This is a great resource if you want to work with a group of students, but you aren't sure what to do during that time.
Gather a little crowd and enjoy the process!
More Writing Links
Using Writing Conferences to Coach Writers– one of my favorite parts of teaching writing is the coaching process. It's getting kids from where they are to where you want them to be as written communicators.
Teaching Writing Using Dictation– a powerful tool in your teaching writing arsenal. Big things have happened in our writing world using this simple strategy.
The Writer's Jungle– a lovely text from Brave Writer written to the parent for how to do writing instruction in a relaxed format.
I developed the way I teach writing before I knew about The Writer's Jungle, but I enjoy it
because it is the ultimate resource to add tools to your teaching toolbox!
Summer time is for relaxing.
For a slower pace.
For experimenting.
Sometimes it's a time to practice.
To build skills.
Practicing at a slower pace
goes perfectly with summer time.
Will you join us?